The waterways of Tarn-et-Garonne by Gillian Thorton - France Today
Last October 2019, we welcomed Gillian Thorton during her roadtrip in Tarn-et-Garonne and made her visit the Abbey Saint-Pierre.
You can read her article right here ! Moissac is on pages 106-107.
Around Moissac
Lauzerte
Labeled « One of the Most Beautiful Village in France », « Stop on the Route to Saint-James of Compostela », « Remarkable Heritage Site », Lauzerte is one of the charming perched villages, overlooking the valleys that dominate the landscapes of the Community of Communes of Pays de Serre in Quercy.
The beautiful medieval city offers a naturally defensive site but its character is otherwise more hospitable and welcoming. A discovery experience invites you to walk trough its streets and around its square where are revealed forged irons signs, artistic sculptures and handicrafts. The spirit of theses places is shown : Lauzerte lives with art a beautiful story. It's up to you to participate by discovering the various exhibition places (Espace Point de Vue, art galleries…) or the inevitable European Artistic Craft Days, the 10,11 and 12 April 2020.
Information and free leaflets
Tourist Office of Lauzerte
33 (0)5 63 94 61 94/ accueil@lauzerte-tourisme.fr
www.quercy-sud-ouest.com
Moissac, lands of confluences
Located in the land of Occitania, between Bordeaux and Toulouse, flanked by the rivers Tarn and Garonne, the Community of Communes « Terres des Confluences » spreads over 22 communes.
Moissac, site labeled Great Sites of Occitania/South of France, and its abbey classified at the Unesco's World Heritage as part of the Routes to Saint-James-of-Compostela offer the territory an unparalleled radiance. Many hiking trails, of which the famous Via Podiensis, cross the villages of Moissac, Lauzerte and Auvillar and allow to discover the remarkable landscapes of Tarn-et-Garonne.
With ourdoor activities, the leisure centre of Saint-Nicolas-de-la-Grave, the Bycicle Greenway of « Canal des Deux Mers » and its direct connection with the motorways, Terres des Confluences is turned towards the development of its economic and touristic attractiveness.
Information
Tourist Office Moissac – Terres des Confluences
33 (0)5 32 09 69 36 / accueil@tourisme-moissacconfluences.fr
www.tourisme-moissac-terresdesconfluences.fr
Auvillar, "Deux Rives" getaway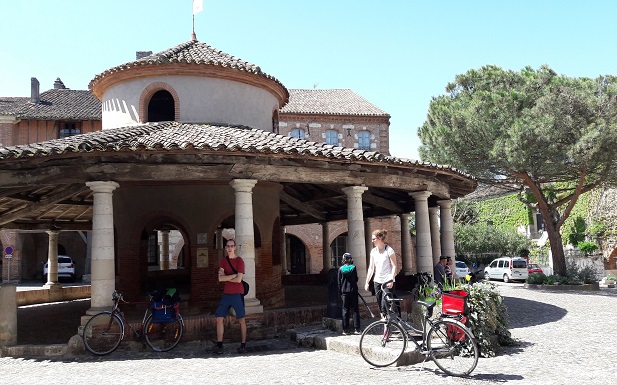 Located at the heart of the South-West, at the edge of departments of Tarn-et-Garonne, Lot-et-Garonne and Gers, our land, crossed by the river Garonne and the Canal des Deux Mers, is a genuine link between the regions Occitanie and Nouvelle Aquitaine. Let yourself be surprised by this generous and authentic land, let yourself be charmed by our beautiful villages with remarkable heritage, let yourself be seduced by our various landscapes. Welcome in Deux Rives !
Discover Auvillar, its surprising circular grain hall, its art galleries and its Faïence and river transport museum. Travel through time thanks to the Conservatory of Traditional Crafts in Donzac. Enjoy strolling through the alleys of the bastide of Montjoi et and walking the other small heritage jewels of this land.
Information and free leaflets
Tourist Office of Deux Rives
33 (0)5 63 39 89 82 / ot-auvillar@cc-deuxrives.fr
www.cc-deuxrives.fr