Plan my visit :
Here you will find all the usefull resources to prepare your visit at the abbey : visitors' booklet, animations programs for the public, the groups, internal rules of the abbey.
Visitors' booklets
Visitors' booklet
Folleto de visitantes
Besucherheft
Bezoekersboekje
Llibret de visitants
Libretto dei visitatori
Livreto de visitantes
访客手册
訪問者の小冊子
буклет для посетителей
Our guided tours programs for groups
Abbey and Romanesque cloister
The medieval abbey, a world in colors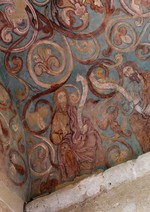 The historical tour of Moissac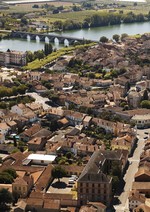 Resource centre Marcel Durliat :
The resource centre Marcel Durliat is the place of resources and reseach of the Heritage Department of Moissac (museum, municipal archives, French label "Ville d'art et d'histoire"). est le lieu de ressources et de recherche du service patrimoine de la ville de Moissac (musée, archives municipales, Ville d'art et d'histoire). It preserves about 2000 colour reproductions of illuminations from medieval manuscripts in the south of France, especially those copied by the monks of Saint-Pierre Abbey. It provides the public with a specialized library on the study of the Middle Ages and more specifically on Romanesque art, as well as a local collection of works on history, art history and archaeology, the contemporary heritage of Moissac and its region.
Open from Monday to Friday, from 9:00 am to 12:00 am and from 2:00 pm to 5:00 pm.
On appointment : patrimoine@moissac.fr – +33 (0)5 63 05 08 05
Espace Prosper Mérimée, 1st floor – Bd Léon Cladel
Municipal archives of Moissac :
The heritage department preserves a part of the municipal archives, the old background (before 1790) and the archives from 1790 up to 1940. Parish registers and civil status until 1907 being numerised by the departmental archives, we invite you to redirect yourself on their website for your researches:
Departmental archives website : http://www.archivesdepartementales.cg82.fr/
Here you can consult the deliberations of the city under the Old Regime : https://www.moissac.fr/actualites/patrimoine-et-tourisme/histoire-ancienne-linventaire-des-deliberations/
And here the book of estimates of 1480, the oldest "cadastre" of the city : http://modelespace.univ-tlse2.fr/html/diapo.html?full#821121480
For those who do not have internet access, we can provide you with a computer station at the Centre d'Art Roman, by appointment.
For any research concerning the archives from 1940 to the present day, it is kept in the offices of the town hall of Moissac. It is mandatory to make a request for consultation by email at : patrimoine@moissac.fr
In return, you will be informed of the possibility of consulting the documents concerning your research. Requests for derogations from the legal time limits for consultation of public records may be necessary.